Map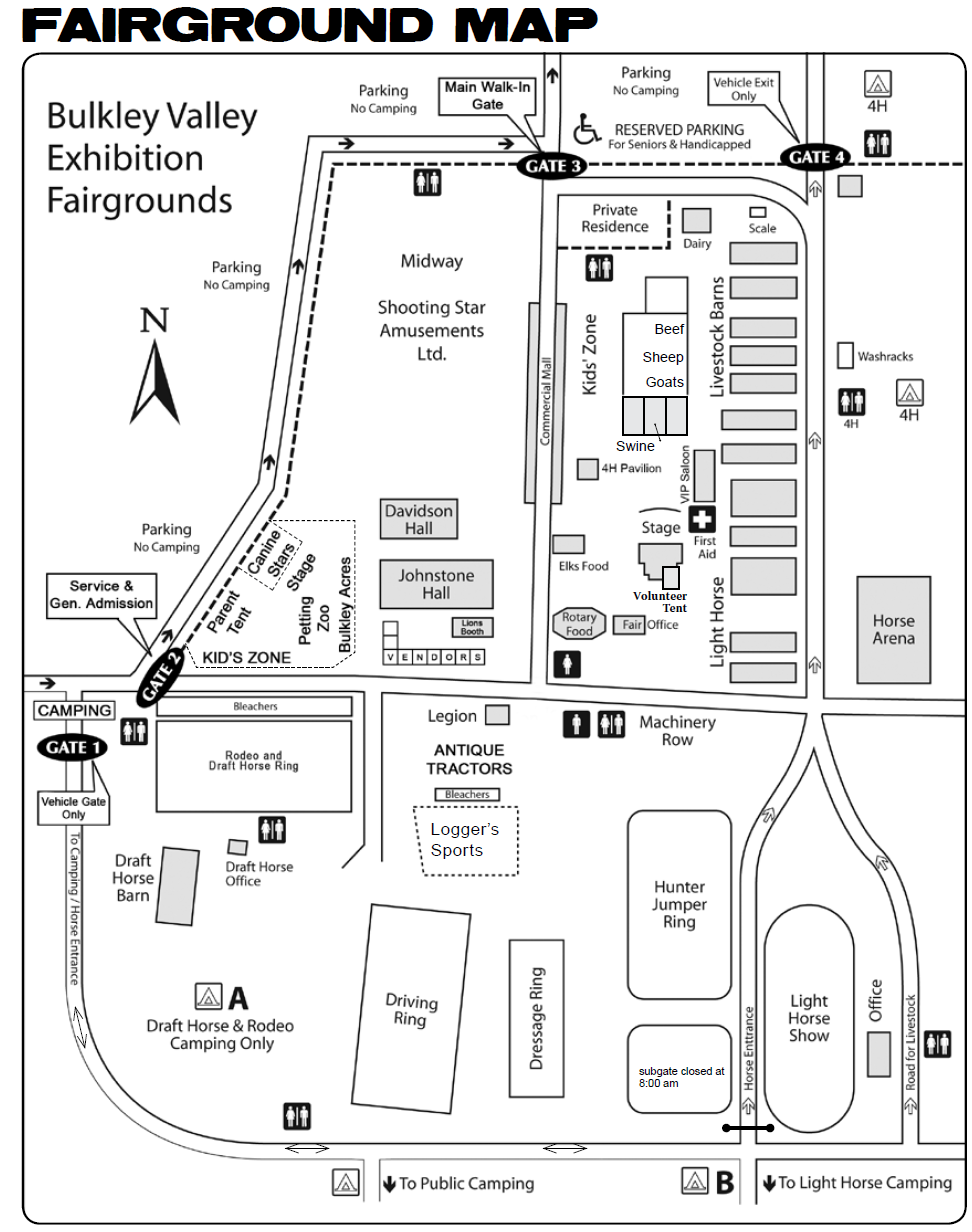 WHERE ARE WE?
Turn off Highway 16 at Tatlow Road on the east side of Smithers; then left on to Pacific St.
GATE INFORMATION - GUESTS
The Exhibition provides roughly 1,100 parking spaces. Parking is on a first-come basis. Please obey parking attendants stationed throughout the parking area.
Gate 1 Camping Gate is a vehicle entry & exit gate
Gate 2 General admission - pedestrian only & re-entry gate
Gate 3 General Admission - pedestrian only access
Gate 4 Livestock Exhibitor entrance only & all vehicle exit gate
ON-SITE CAMPING
On-site camping is available to exhibitors and the general public on a first-come basis. All persons camping must purchase a 4-day camping pass in addition to the camp site fee. Space is limited. New for this year - camping application form must be filled out. Click here
Parking and camping are under the control of the Grounds and Camp Managers, and campers must confine their vehicles and campsite to the designated areas. Violators may have their privileges revoked.
No vehicles to move on the grounds between 10am-6pm.
FEE: $40/camping unit (tax incl.)
CAMPING LOCATIONS
Public camping at south end of fairgrounds. 4-H, Draft Horses and Light Horses each have their own designated areas.
4-H and Open Livestock ("4-H" on map)
Draft Horses ("A" on map)
Light Horses ("B" on map)
Rodeo ("A" on map)
PLEASE KEEP IN MIND
Minors (under the age of 19) must camp with guardian or parent.
No overnight camping in the parking areas.
No fires are permitted!
Sani-station located at city centre, Hwy 16 and Main Street and at Canadian Tire.
GATE AND VEHICLE INFORMATION - Vendor/Exhibitor/Contractor
No vehicle traffic inside fenced area from 10 am - 6 pm.
Please observe and obey the signs to keep congestion to a minimum and allow safe pedestrian traffic.
Gate 1 Camping Gate is a vehicle entry & exit gate
Gate 2 General Admission, Vehicle access until 6am-9:45am only
Gate 3 General Admission - pedestrian only access
Gate 4 Livestock Gate is a vehicle exit gate