ARRIVAL: Canada's Tribute to ABBA
Playing hundreds of sold out live shows, the ABBA tribute band ARRIVAL has a sound and stage show has been honed and fine tuned to such a degree that they have many times actually been mistaken for the real ABBA!
You will always find the crowd singing along with all of ABBA's famous and well known tunes during ARRIVAL's exciting high energy live stage show!
That's because every song on ARRIVAL's roster was a number one ABBA hit, and ARRIVAL delivers with such incredible and enjoyable authenticity,you feel that you are actually witnessing ABBA in Concert!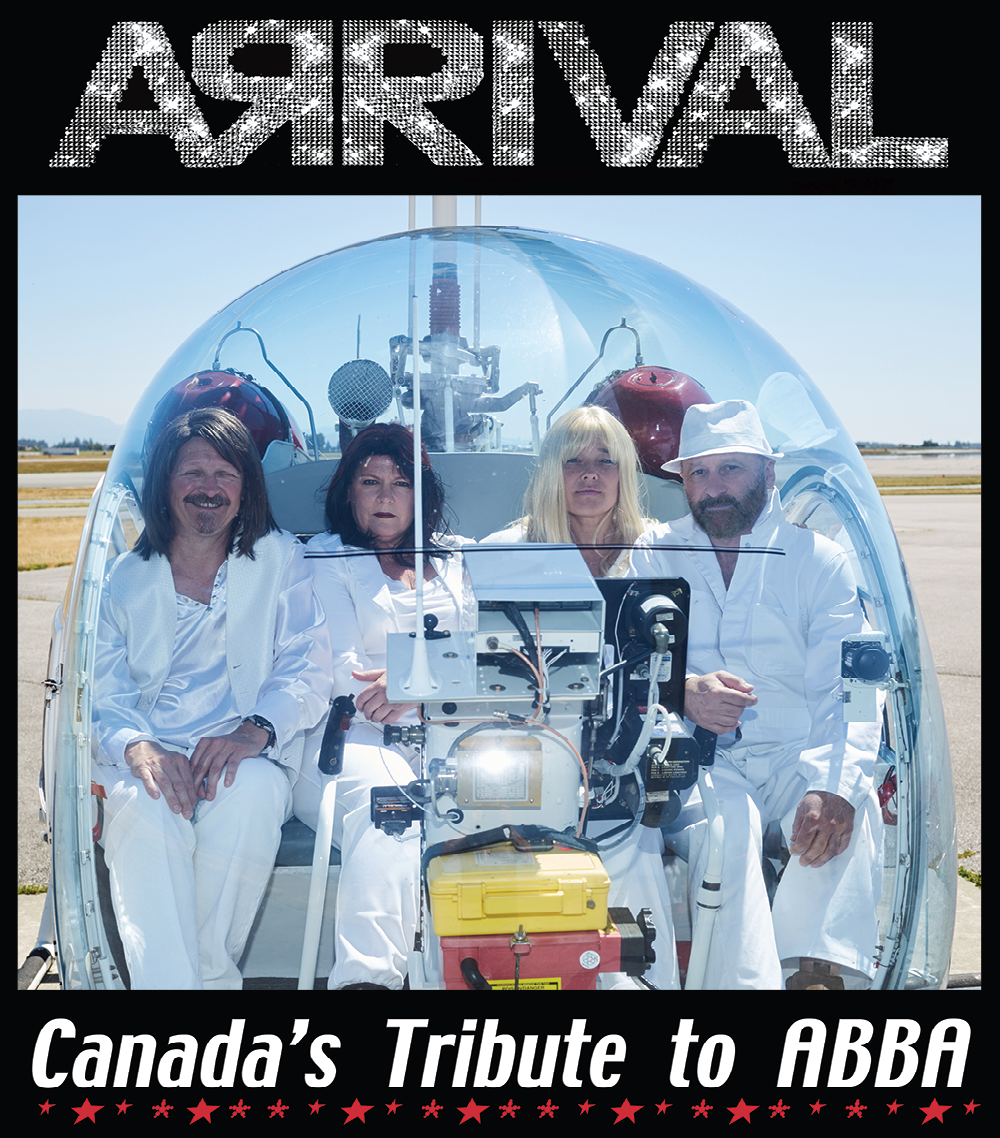 Rachael Chatoor (Agnetha Fältskog)
Rachael Chatoor is a native of Vancouver and has been part of the local music scene since the early 90's, when she took her top 40 corporate band overseas on an international tour.
She has worked as a solo artist as well as in collaboration with other musicians as a part of corporate and festival bands such as Hitzone, Barracuda, the Indestructables and the Rockingbyrds as well as Dreams and Arrival.
This songstress enjoyed a steady gig rotating into Lulu's Lounge in Richmond's River Rock casino for nearly a decade and currently plays at a variety of lounges, private venues, golf courses and exclusive clubs around the lower mainland.
Tracy Masson (Anni-Frid Lyngstad)
Tracy Masson has been a professional singer for many years. Her history includes performing the lead in two Janis Joplin tribute bands, touring with the "Legends of Rock" and fronting many popular rock bands, touring all over western Canada and beyond.
Tracy's large roster of studio credits include lead vocal tracks on the musical "Steamroller", and "Vagabond Road", produced by Paul Hyde. She has also recorded her own compositions.
Tracy has won many competitions with her soaring cutting-edge vocal style. She has been compared to the likes of Janis Joplin, Heart, Led Zeppelin, Sheryl Crow and many more. Now out front as "Anni-Frid Lyngstad" in ARRIVAL. She has come to a place where she can really shine. You don't want to miss her in this amazing live tribute show!

Mario Parente (Björn Ulvaeus)
Mario Parente has been playing music for over two decades, both live and in the studio.
An accomplished session musician, he has worked with various artists of all different styles.
Mario lends his lead guitar and lead vocals to the DREAMS project, authentically duplicating the part of Lindsey Buckingham.
Bob Van Velzen (Benny Andersson)
Bob Van Velzen plays Benny Andersson in ABBA.
He was born in Port Alberni, BC, where he began is music career at a very young age, learning to play the accordion by the age of five.
Bob has been involved with the recording and production of ARRIVAL since it's inception in early 1999. Then in 2001, he joined the band as Benny
Bob has played in many bands across Western Canada over the years, and his musical talents include not only the accordion, but also saxophone, guitar, keyboards, harmonica and drums. He also sings background harmony vocals to fill out the sound of ARRIVAL.
COME AND WATCH ARRIVAL ON THURSDAY, AUGUST 22 @ 9PM ON THE MAIN STAGE!