Kids Area
Once upon a time, the Kids' Zone was just a tiny wee place, tucked away between the livestock rings and the commercial mall. But as any parent knows, if you look after these tiny wee babies, they grow, they get bigger and better until you hardly recognize them any more! You'll find the Kids' Zone now between the Rodeo Ring and the Midway – with action packed into every square inch!
The Kids' Zone is a mix of old favourites with new attractions. For kids who love animals – meaning just about everyone – the longtime favourite is the Petting Zoo. Under the big marquee tents you'll find bunnies, baby lambs and goats, piglets, fluffy chickens, friendly ducks and geese, little Mini donkeys and even a giant Dinosaur Bird! check out the new Guinea pig habitat this year as well.
And if it all gets a bit too much, the Parenting Tent here too – where you can rest, chill out and recoup your energy, until it's time to go again!
SPECIAL ATTRACTIONS
The Canine Stars Stunt Dog Show
After their fantastic performances at last year's BVX, where they leaped, dived, raced and even skipped their way into so many hearts, we are thrilled to welcome back the Canine Stars to the 2023 BVX. If there was ever an event where the dogs steal the show, this is it! And you know what makes them super-special? Every one of them is a rescue, from streets and from shelters across North America.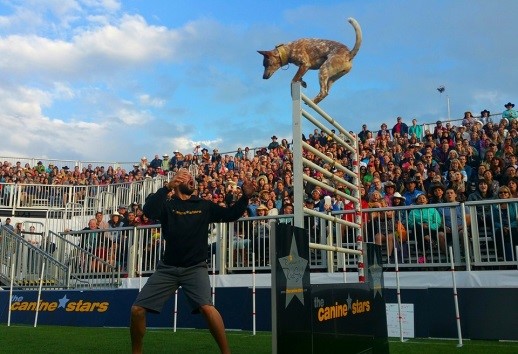 Whatever their backgrounds, these dogs are all athletes now, and clearly love what they do. Featured acts in the show include dock diving, flyball racing, extreme agility stunts, freestyle Frisbee routines – and we even recall two dogs last year who played jump rope with their trainer! Ever watched a horse sail over a three-foot fence? You'll flip when you see what these dogs can do! Maybe you've seen slalom skiing or pole-bending at the gymkhana – that's all part of the race for these dogs!
The Canine Stars promote adoption, for those looking for a new pet to join their family. And the benefits of adoption definitely go both ways. "It's so inspiring to hear that a puppy found on the street with worms and diseases can turn into a star, performing major tricks in front of large audiences," one Canine Stars guest said. "After watching the show it really made me feel like I can do anything and overcome any obstacle!"
So come on down to their performances, and bring your camera because these dogs love to meet their fans afterwards. We can't promise you autographs, but for sure you'll see a show to remember!
Yukon Dan - World Champion Gold Panner!
Pan for gold with Yukon Dan at the 104th BVX
Uncle Chris the Clown
Uncle Chris is a wildly colourful, high-energy entertainer who gets you involved in anything he does. His endearing (but kind of kooky) personality just draws the kids in, and he keeps them laughing and amazed like no-one else can. Sometimes that's with his magic shows – where he messes up his tricks yet again and the audience has to do the magic instead! Or you might find him in the Clown Tent, making balloon animals or playing silly clown games with the kids.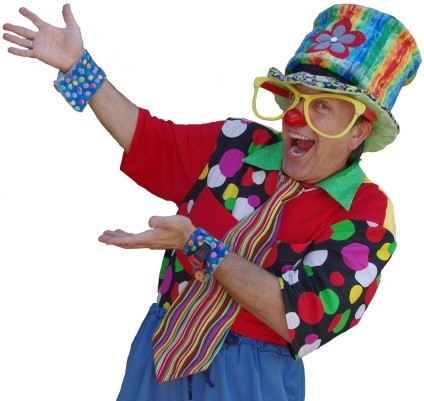 You'll find Uncle Chris the Clown at the Kids' Stage several times each day, and often in the Clown Tent near the stage.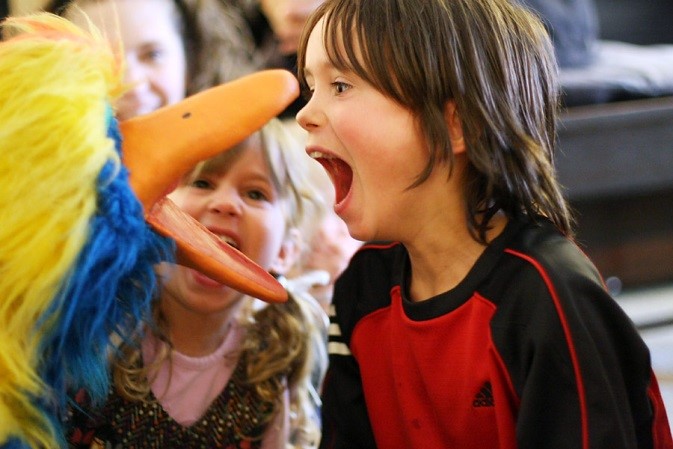 Kellie Haines - Ventriloquist and Friends!
Kellie is back to the BVX and will be on the kids Stage and Roving all 4 days of the Fair.
SPECIAL EVENTS
Kids' Dog Show – 2:00pm Sunday
A perennial favourite at the Kids' Zone, the Kids' Dog Show features kids 16 and under with their family dog. But this is a dog show with a difference – the prizes don't go to the Best Of Breed but rather for the Smallest Dog, Longest Nose, Longest Ears or Curliest Tail! You'll also find dogs showing off their Best Trick (and I wonder if we'll see some inspiration from the Canine Stars?), and sometimes their Best Dressed Handler!