Kids Area
Once upon a time, the Kids' Zone was just a tiny wee place, tucked away between the livestock rings and the commercial mall. But as any parent knows, if you look after these tiny wee babies, they grow, they get bigger and better until you hardly recognize them any more! You'll find the Kids' Zone now between the Rodeo Ring and the Midway – with action packed into every square inch!
The Kids' Zone is a mix of old favourites with new attractions. For kids who love animals – meaning just about everyone – the longtime favourite is the Petting Zoo. Under the big marquee tents you'll find bunnies, baby lambs and goats, piglets, fluffy chickens, friendly ducks and geese, a little Welsh pony and a pony mare and foal, and even a super-soft-furred alpaca! You may also find the North-West Animal Shelter here, to remind you that when you want to take an animal home as a pet, you can arrange to adopt a dog or a kitten from the shelter – and rescue another one from life as a homeless stray.
And if it all gets a bit too much, the Parenting Tent here too – where you can rest, chill out and recoup your energy, until it's time to go again!
SPECIAL ATTRACTIONS
The Canine Stars Stunt Dog Show
After their fantastic performances at last year's BVX, where they leaped, dived, raced and even skipped their way into so many hearts, we are thrilled to welcome back the Canine Stars to the 2018 BVX. If there was ever an event where the dogs steal the show, this is it! And you know what makes them super-special? Every one of them is a rescue, from streets and from shelters across North America.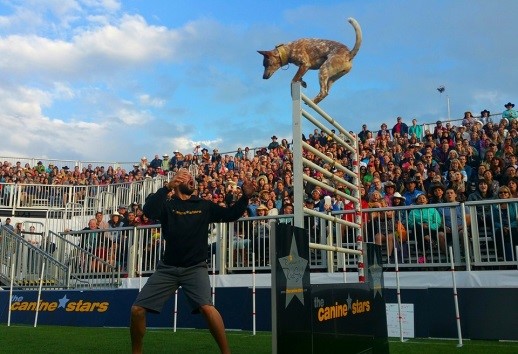 Whatever their backgrounds, these dogs are all athletes now, and clearly love what they do. Featured acts in the show include dock diving, flyball racing, extreme agility stunts, freestyle Frisbee routines – and we even recall two dogs last year who played jump rope with their trainer! Ever watched a horse sail over a three-foot fence? You'll flip when you see what these dogs can do! Maybe you've seen slalom skiing or pole-bending at the gymkhana – that's all part of the race for these dogs!
The Canine Stars promote adoption, for those looking for a new pet to join their family. And the benefits of adoption definitely go both ways. "It's so inspiring to hear that a puppy found on the street with worms and diseases can turn into a star, performing major tricks in front of large audiences," one Canine Stars guest said. "After watching the show it really made me feel like I can do anything and overcome any obstacle!"
So come on down to their performances, and bring your camera because these dogs love to meet their fans afterwards. We can't promise you autographs, but for sure you'll see a show to remember!
The Canine Stars is brought to you by

!
Yukon Dan - World Champion Gold Panner!
Pan for gold with Yukon Dan at the 101st BVX
Uncle Chris the Clown
Uncle Chris is a wildly colourful, high-energy entertainer who gets you involved in anything he does. His endearing (but kind of kooky) personality just draws the kids in, and he keeps them laughing and amazed like no-one else can. Sometimes that's with his magic shows – where he messes up his tricks yet again and the audience has to do the magic instead! Or you might find him in the Clown Tent, making balloon animals or playing silly clown games with the kids.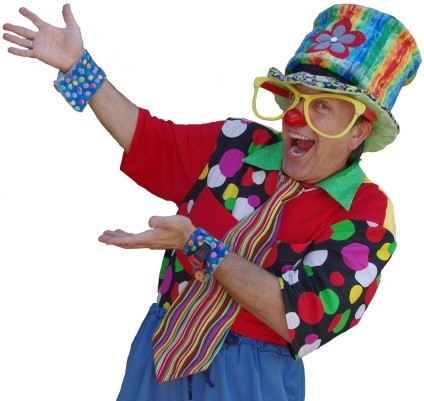 You'll find Uncle Chris the Clown at the Kids' Stage several times each day, and often in the Clown Tent near the stage.
SPECIAL EVENTS
The Pet Parade! – 2:00pm, Thursday
Back from the 1950s to the 101st annual BVX! Bring your favourite pet to the 2020 Pet Parade! Open to kids 12 & under (although there will be one special class for adults!), with any kind of pet. Pets must be on a leash, or in an appropriate cage/bowl/enclosure that may be carried or pulled on a wagon. Check out the prizebook for all the classes!
Zucchini Races! – 12:00 – 2:00pm Friday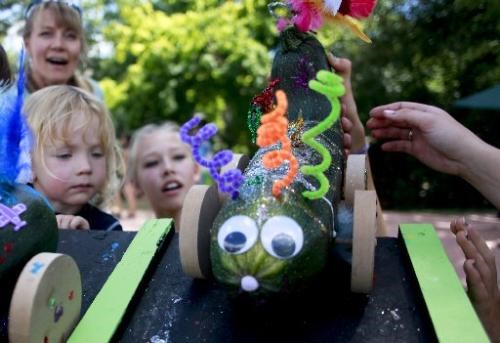 If you figure your future lies in the winner's circle at the Indianapolis 500, what better place to start than with a Zucchini 500 race car! Come to the Zucchini Racer Workshop, 12:00 – 2:00pm on Friday to build your very own race car, then join in the show. Prizes for the Fastest Zucchini, the Furthest, and the Coolest Zucchini! And look out for the Zucchini Race Challenge at 2pm, because you just never know who'll be there!
You make a zucchini racer by adding four wheels to a zucchini so it will roll, maybe a little driver (carved from a carrot or a radish?) plus whatever flags, decals or other additions you think it needs. Then you put it on the Race Ramp, lift the starting barrier and watch it go! You can also build your zucchini racer at home and pre-enter to guarantee your place.
Kids' Dog Show – 2:00pm Sunday
A perennial favourite at the Kids' Zone, the Kids' Dog Show features kids 12 and under with their family dog. But this is a dog show with a difference – the prizes don't go to the Best Of Breed but rather for the Smallest Dog, Longest Nose, Longest Ears or Curliest Tail! You'll also find dogs showing off their Best Trick (and I wonder if we'll see some inspiration from the Canine Stars?), and sometimes their Best Dressed Handler!
Dressup Fashion Show – 12 noon Sunday
For all the princesses, knights and pirates who ever wanted to dress up and tread the catwalk on the Kids' Stage! There's prizes for the scariest, the best superhero, the best cowboy/cowgirl – or maybe you'd rather be your favourite movie character!
Sponsored by:
BV Credit Union
Hy-tech Drilling Ltd
Lordco Parts Ltd.
Pacific Northern Gas
Remax - Donna Grudgefield
Silver King Helicopters Inc.
Toews, G. Ronald